Legend of Yun Xi Recaps – 《芸汐传》
Synopsis: 
Han Yunxi is the daughter of an imperial physician who lost her mother when young, but maintains a cheerful and optimistic disposition. Yunxi is naturally talented in medical science and proficient in traditional medicine, but suffers from the jealousy and avoidance of others. By a stroke of fate, Yunxi marries the Duke of Qin, Long Feiye, and becomes embroiled in the changing politics of the imperial court. Yunxi relies on her high-level medical skills, wise, far-sighted brain, and compassionate heart to expel the poisons of a great official, get rid of secret agents for the Duke of Qin, eliminate the plague for the common citizens, and cure the crown prince's strange illness.

Yunxi's kindness as a doctor not only earns her the appreciation of the masses, but helps the Duke of Qin overcome many nefarious plots, including the rebellion of the Chu siblings. After a series of unfortunate accidents, Yunxi's medical skills grow even more unparalleled and she even gains the admiration and adoration of the Duke of Qin. Both of them take fame lightly in favor of digging into the medical field. In the end, they leave the clamor of court intrigue behind them and go in seclusion in the mountains, living a happy life free from worldly cares.Drama
Also known as the drama adaptation of webnovel Poison Genius Consort by author Jie Mo. Legend of Yun Xi stars Ju Jingyu (鞠婧祎), Zhang Zhe Han (张哲瀚), and Mi Re/Merxat (米热) in the lead roles. Please be aware that drama details will vary from the source material! For more information, check out the related links on the PGC Bonus Content page!
These are RECAPS ONLY! If you want to watch the drama, go to Legend of Yun Xi's iQiyi page instead. 🙂
---
Recap Table of Contents:
Drama Characters Relationship Chart (via sithkazar, click to expand):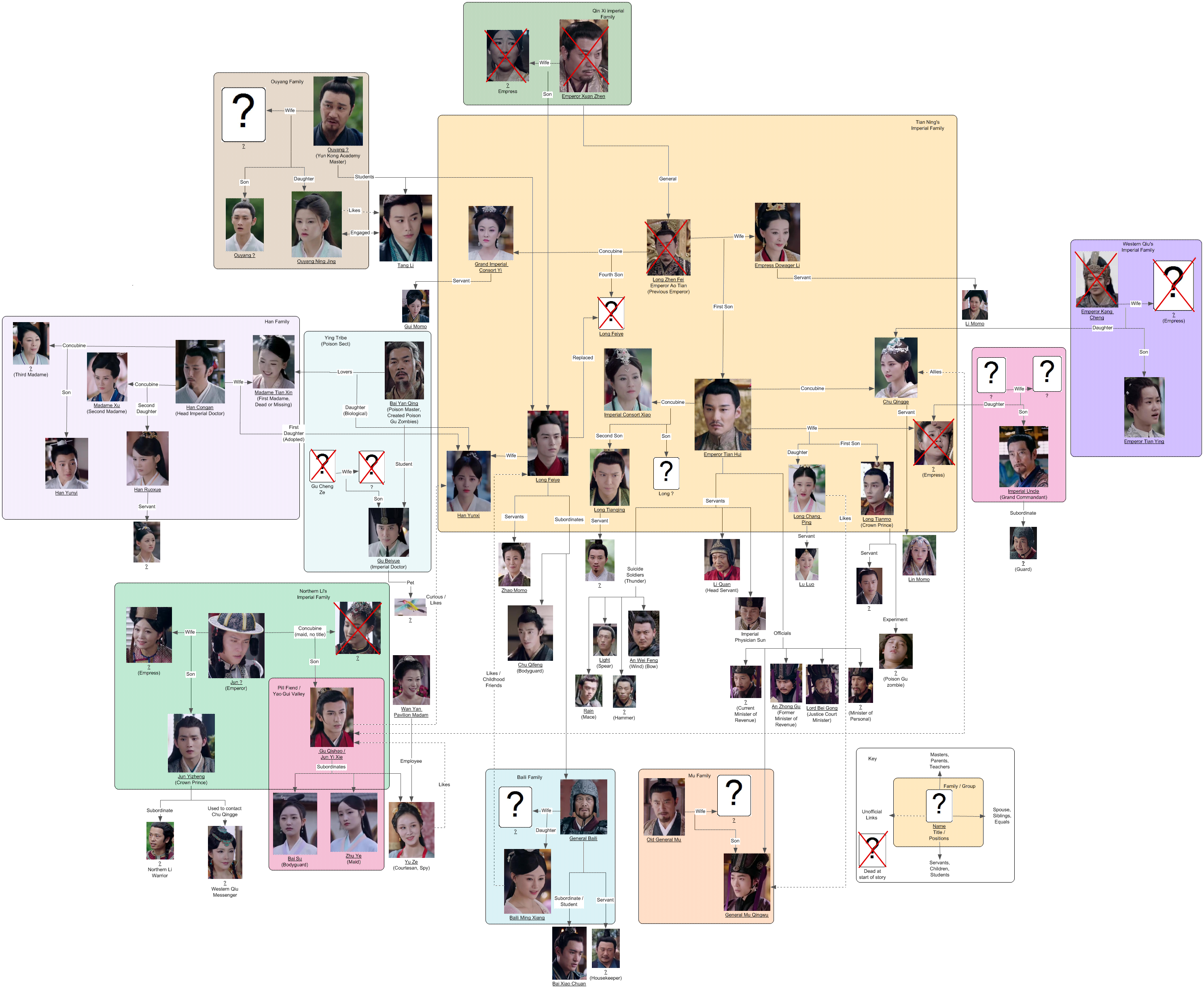 Quick Links:
Episode 1: Snubbing Dukes, Snagging Dandies
Episode 2: Palace Pressures
Episode 3: Long Feiye in Trouble, Han Yunxi in Space
Episode 4: Petty Princesses are Pretty Pathetic
Episode 5: Yunxi Spies and Tries to Lie, But Feiye Turns a Blind Eye?
Episode
Episode
Episode
Episode
Episode
Episode
Episode
Episode
Episode
Episode
Episode
Episode
Episode
Episode
Episode
Episode
Episode
Episode